fancy spreading your payments?

Pay in 30 days, or in 3 instalments with Klarna
With our partner Klarna, you can pay in 30 days or spread the cost equally over 3 months, and not pay a penny more than the price shown. Those wake-up-happy mornings just got easier. Simply choose 'Klarna' at the checkout.

scandi good looks
The very latest touches from our award-winning designer, Felix Gotze, means this bed feels every bit as good as it looks.
easy-care fabric
The deep velvet upholstery is antistatic and water repellent - meaning no dust or stains.
tailored support
Genius adjustable slats mean you can tailor the tension of the bed to support your spine in a single swipe.
5 year warranty
Our bed frames last the test of time - we'll even give you a 5-year warranty to prove it.
easy delivery
Get the bed delivered straight to a room of your choice ready for you to assemble.
hassle-free returns
Want to return it? We make things easier by collecting it from your bedroom - for free.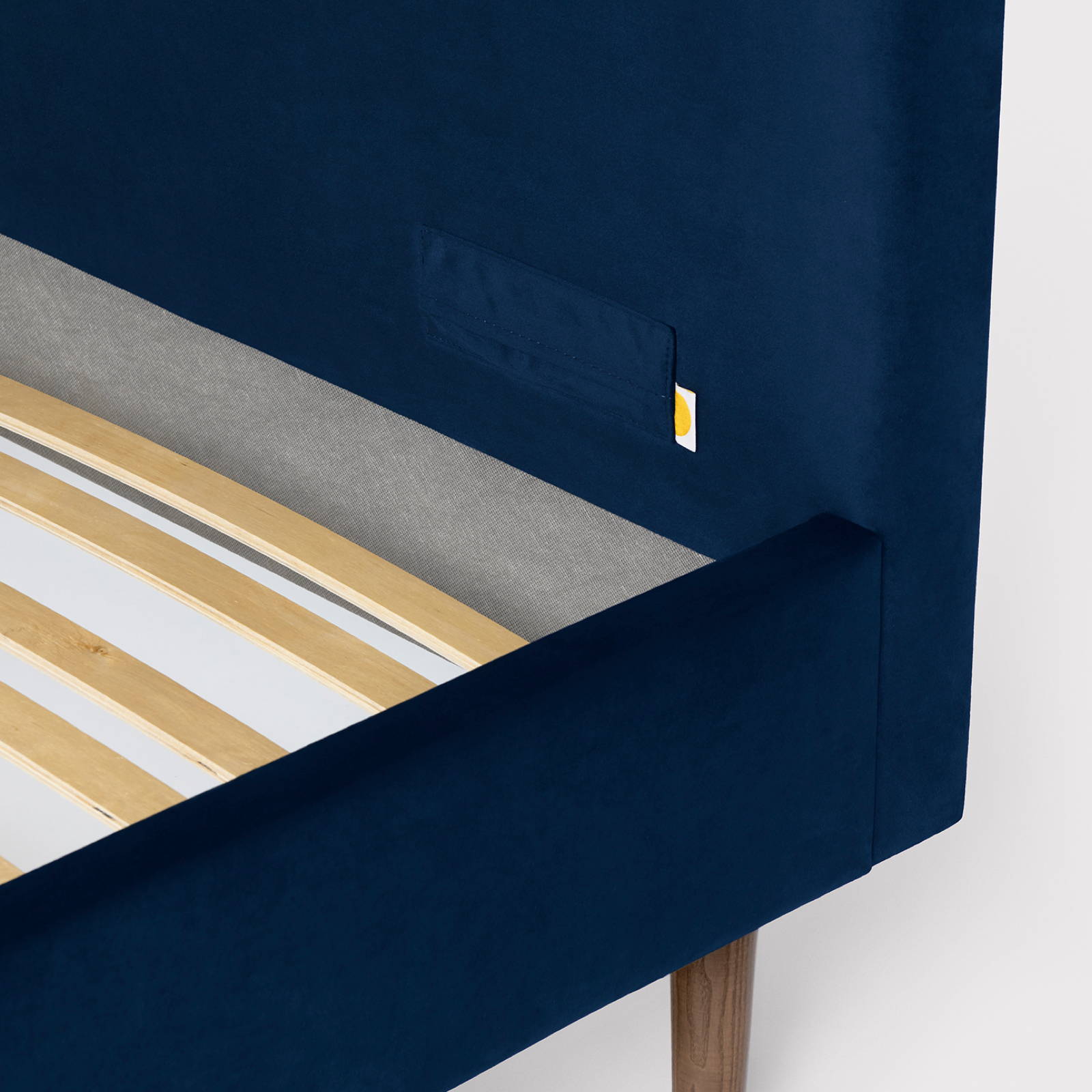 There's velvet bed frames, then there's the button back bed frame. Not only have we used irresistibly soft velvet to give the bed a sumptuous feel (fancy or what?). We've also sealed the entire thing with SMART® nanoparticle technology.
In human speak, this means 2 things: it's anti-static which stops dust from settling. And it's water-repellent which makes it a dream to clean. In fact, liquids won't even have a chance to soak in before you wipe them away. Breakfast in bed it is.
Want to make sure your bed is always fresh, sweet-smelling and as clean as a whistle? The attirecare clean kit is literally the whole kit and caboodle when it comes to keeping your bed as good as new.
With adjustable sprung beech slats, you can alter the tension of each one to suit your pressure points (and your bony bits). Simply swipe the yellow sliders across to find your perfect support. Pushing them to the sides of the frame will give a firmer feel. And pushing them towards the middle will give a softer feel.

Better yet, each side of the bed can be adjusted separately. So if you've got a sleep partner, you'll both wake up feeling the love. Nice.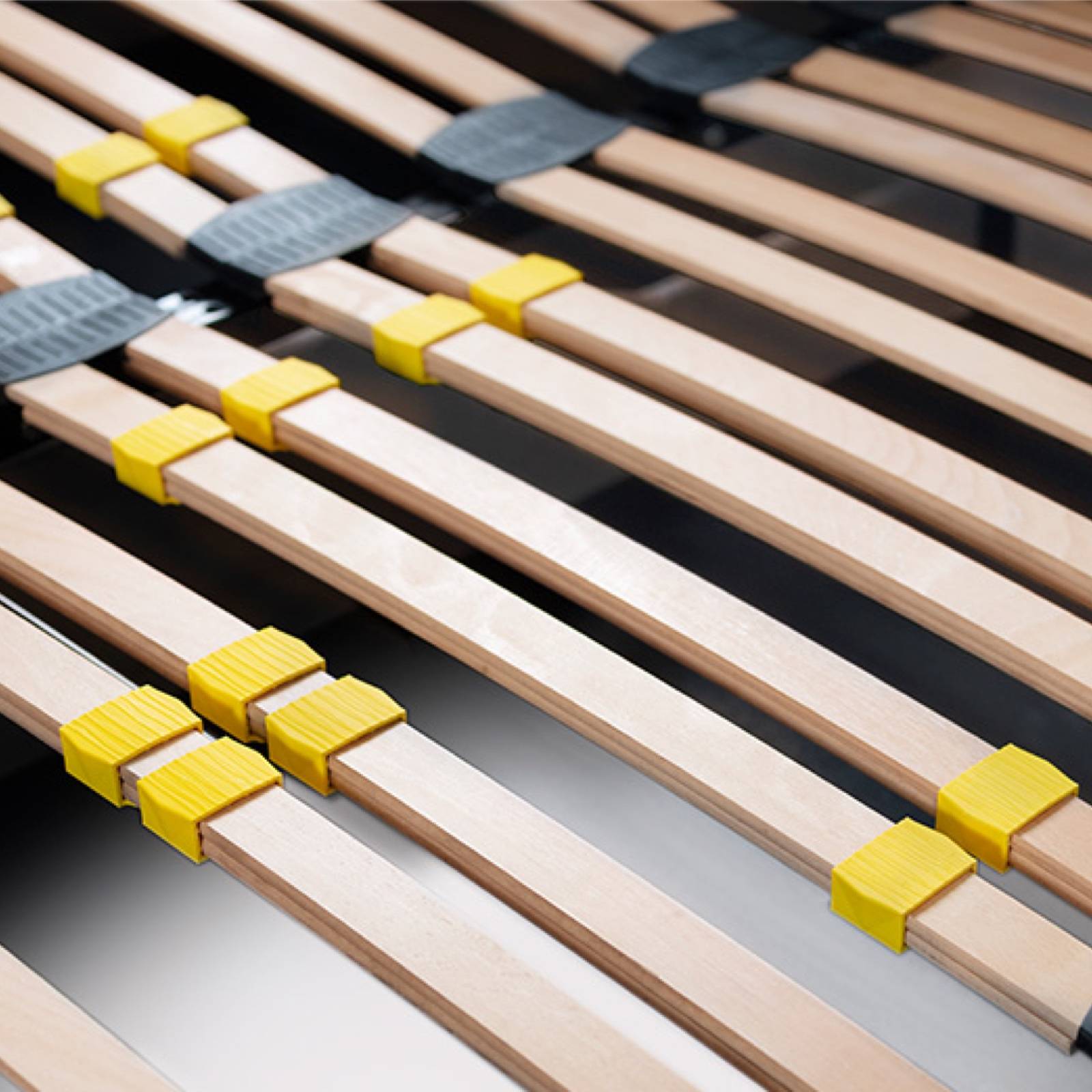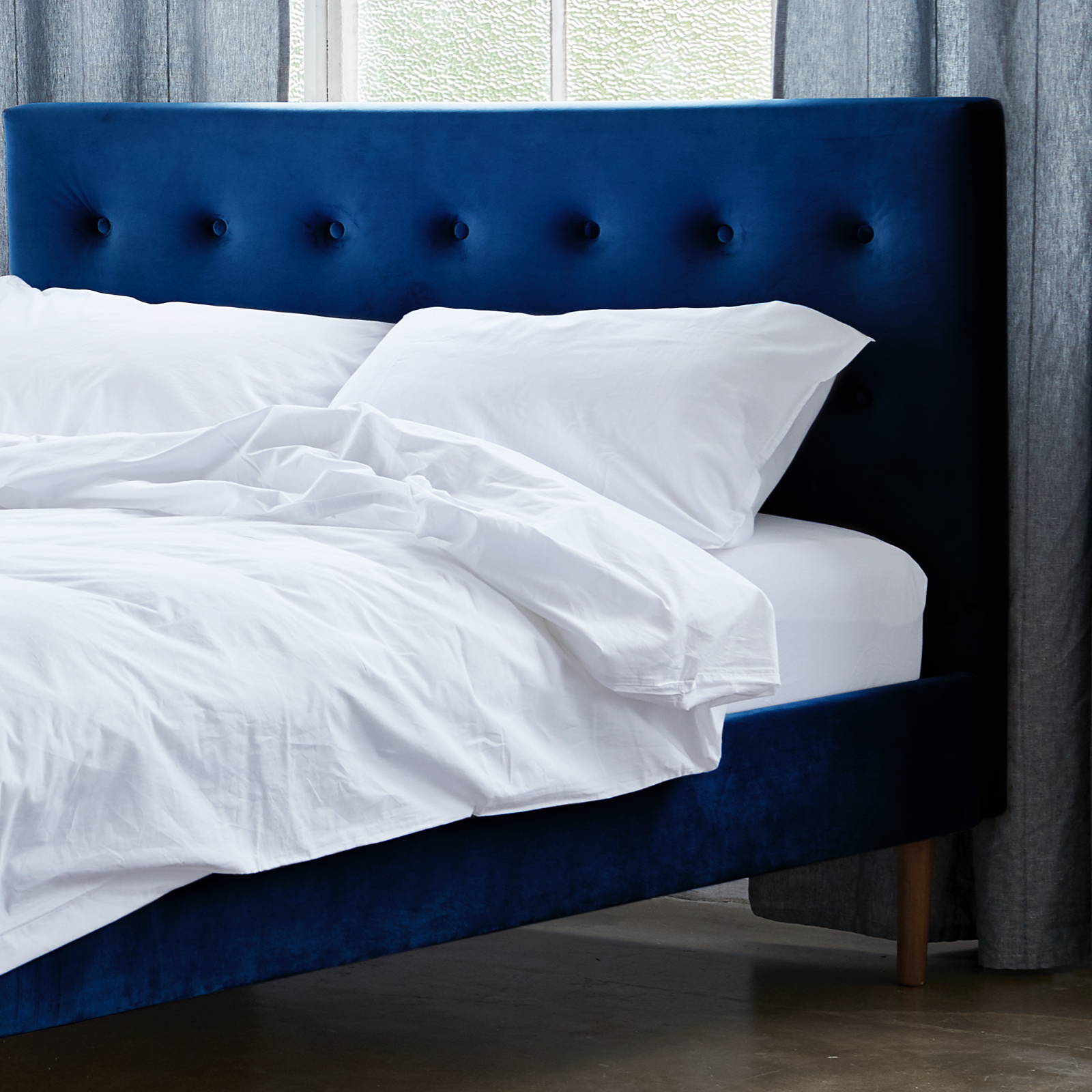 Did someone say luscious, luxurious velvet? Oh yes. Yes we did. The velvet button back bed frame comes with walnut-stained solid ash legs and button upholstery for a contemporary look. Ooo err indeed.

The fun doesn't stop there, though. We also gave it a padded headboard. Soft edges to stop bashed shins and stubbed toes. And a cracking 19 cm of clearance underneath so you can stash away blankets, shoes and other things your furry friends might steal.
| | | |
| --- | --- | --- |
| UK sizes | Internal size | External size |
| | | |
| | | |
| | | |
manufacture, materials and care
All eve upholstered furniture and furnishings comply with the requirements of the UK Furniture & Furnishings (Fire) (Safety) Regulations (1988 - as amended)
Sleep easy with a 5 year warranty. This means we'll guarantee your furniture against faults or breakages for a maximum of 5 years. Just remember to file your proof of purchase somewhere you can find it.
Full details can be found on our warranty page.
We aim to deliver right to your doorstep for free, but some areas might be charged. We'll list any costs at checkout.
Our efficient two-man delivery service will deliver the bed frame straight to a room of your choice, ready for you to assemble. The delivery crew will text you to book your delivery day in advance. Once they are on the way they will call you, usually about 30 minutes before they arrive at your home.
Full details can be found on our delivery page.
We believe that returning something should be as easy as buying it. Return your order within 30 days, provided there is no evidence of use and in the original packaging.
Full details can be found on our refunds and returns page.