The purest sleep needs the purest ingredients. And this candle has purity to burn. 100% natural soy. 100% natural oils. No chemicals or nasties to invade your dreams. Just natural botanicals to calm your mind and body for restorative, soul-soothing sleep.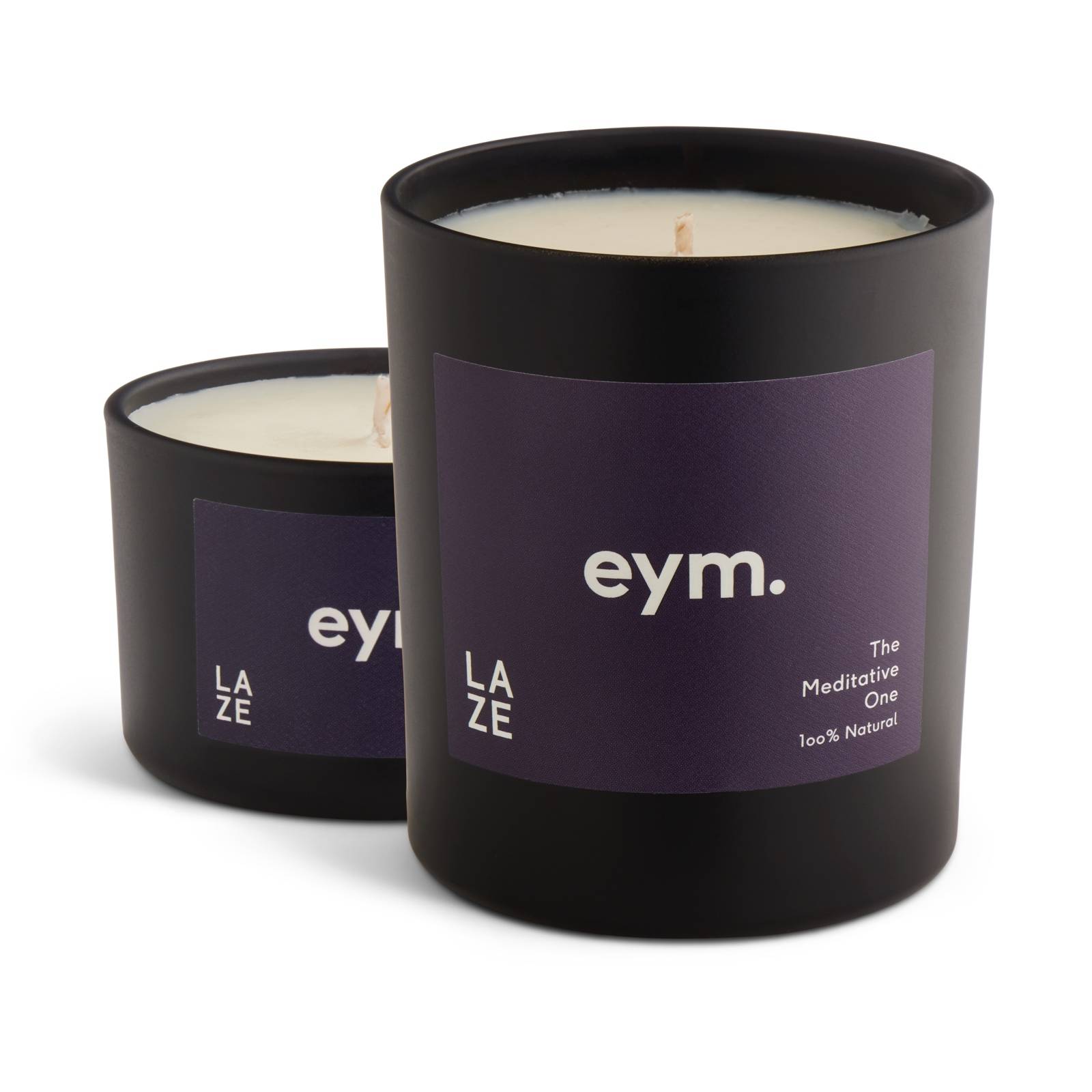 burning the midnight (natural) oil
To rest or not to rest. Is never the question. Choose the mini size for 12 hours of burn time, or standard, which gives you a whopping 40 hours. That's a lot of resting, recharging and restorative sleeping, in one seriously good-looking candle.
manufacture, materials and care
country of origin
The eym laze candles are made in the UK.
benefits
Peace-inducing
Deeply soothing
Frankincense is known as the oil of spirituality
how to use
Your first burn


To prevent tunnelling, burn for at least 2 hours the first time (or until the melted pool has reached the edge of the jar).

Keep the wick trimmed


Before each use, trim the wick to 1cm. It should always look short and upright for a clean burn.

Burn in enclosed spaces


Because EYM candles contain no chemical scent boosters (they're 100% natural), you'll get the best experience in a small enclosed space.
ingredients
Frankincense
Patchouli
& other essential oils
caution
Never leave a burning candle unattended. Burn candle out of reach of children and pets. Do not burn the candles on or near anything that can catch fire.
WARNING
Keep out of reach of children. Read the label before use. May cause an allergic skin reaction. If on skin: wash with plenty of soap and water. If skin irritation or rash occurs: Get medical advice/attention. Harmful to aquatic life with long-lasting effects. Contains alpha-Pinene, beta-Caryophyllene, dl-Limonene. May produce an allergic reaction. Dispose of contents/container to an approved disposal site, in accordance with local regulations.
We'll always try to deliver straight to your doorstep. Any delivery fees will be added at checkout.
Hop on over to our delivery page for more details.
Return your order within 30 days if it's unused and in a re-sellable condition.
Full details can be found on our refunds and returns page.