With the help of down-with-the-kids design collective, Nous Vous, we've created cute, but cool bedding sets that bring your little one's bedroom to life. Whether you choose the fabulous frenzy of printed animals, a meteorological masterpiece or an intergalactic adventure, each bedding set will have them dreaming in happy technicolour.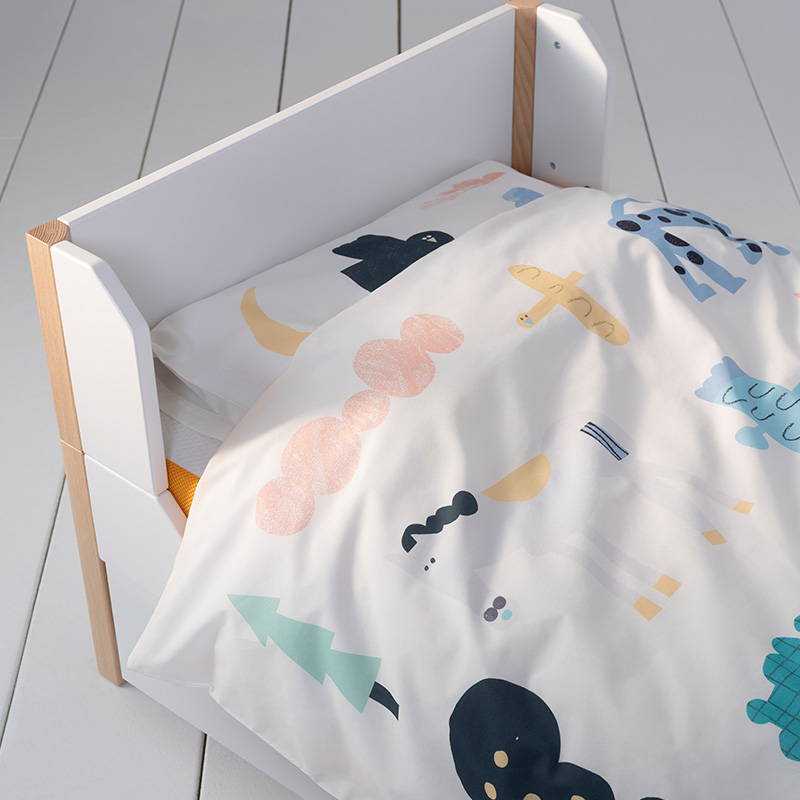 Our super breathable pillowcase and duvet cover set is made from high-quality thread count, 100% cotton. It's beautifully crisp and absorbent, wicking away sweat and keeping your little wriggler cool all year round. Pair it with our snuggly soft mattress protector and breathable mattress for nothing but five star comfort for your beginner sleeper.
manufacture, materials and care
The fitted sheet is suitable from birth
We are proud to offer a 2 year warranty on our textile products as they meet the highest standards for domestic use.
This warranty covers the defects in materials and workmanship of an eve textile product that has at all times only been in normal domestic use. The warranty also covers popper or button breakage.
Full details can be found on our warranty page.
We aim to deliver right to your doorstep for free, but some areas might be charged. We'll list any costs at checkout.
Your package will be delivered by courier. Full details can be found on our delivery page.
This item has a 14 day refund period. Provided there is no evidence of use. We'll send you an email with a label to print out. Just attach it to the original box, and take it to a UPS drop off point. We'll process your refund as soon as we get it.
Full details can be found on our refunds and returns page.