This one's not quite ready yet - but it'll be on our site soon. Give us your details to be the first to know when.
Each diffuser comes with a pack of reed sticks which soak up the scent and release it slowly. That means you'll get delightful whiffs all round the clock for approximately 45 days (our clever product designers worked that one out).
Shop the 'well slept' by eve, a range of sleep gifts designed to turn any bedroom into a spa-like sleep sanctuary. Shop it right here or exclusively in Boots stores and on Boots.com.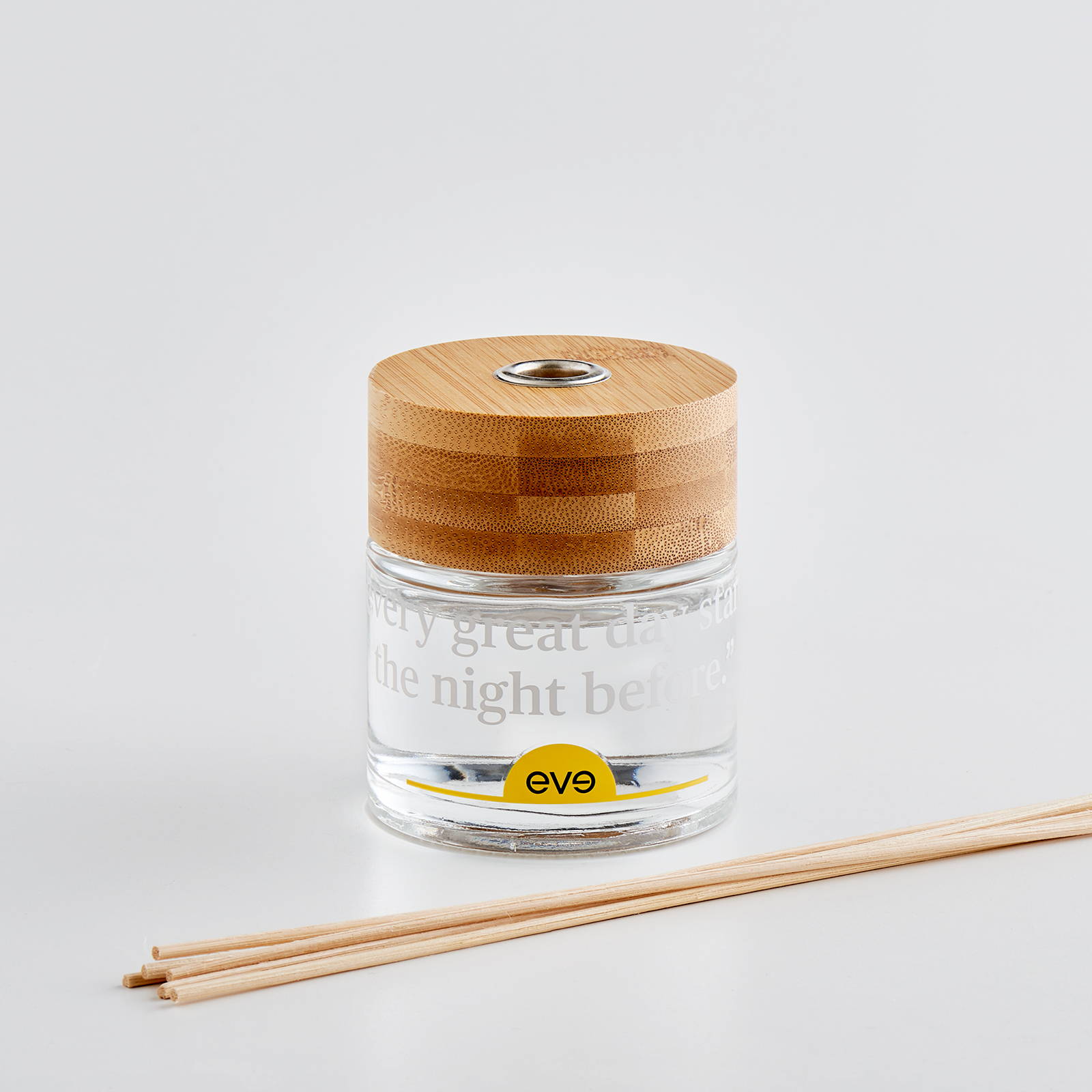 manufacture, materials and care
- glass container
Refer to safety information before use.
Remove bamboo and plastic caps from the bottle. Insert the reed stems into the bottle, making sure to spread out the reeds. The reeds act like a wick, drawing up the fragrance and releasing it into the air. Ensure the product is placed on a stable surface to prevent spillage. Do not place on polished, painted or plastic surfaces. Wipe surface immediately if spilled. Replace caps after use. Wash hands after handling.
Ingredients:
Sandalwood & Bergamot Contains: 1-(1,2,3,4,5,6,7,8-octahydro-2,3,8,8- tetramethyl-2-naphthyl)ethan-1-one, linalyl acetate, linalool, dipentene, pin-2(10)-ene, cis-hex-3-en-1-yl methyl carbonate.
Do not dispose of contents and container down the drain or toilet. Store in a cool, dry place away from direct sunlight.
WARNING
May cause an allergic skin reaction. Causes serious eye irritation. Toxic to aquatic life with long lasting effects. Keep out of reach of children. Read label before use. If medical advice is needed, have product container or label at hand. IF ON SKIN: Wash with plenty of water.
If skin irritation or a rash occurs: Get medical advice/ attention.
Made in China.
We aim to deliver right to your doorstep for free, but some areas might be charged. We'll list any costs at checkout.
Full details can be found on our delivery page.
This item has a 14 day refund period. Provided there is no evidence of use. Returns are free. Please contact us at hello@sleepeve.co.uk and we will supply you with a returns label. You can return in the original box.
Full details can be found on our refund and returns page.