We don't just sell mattresses here at eve. We've got everything you need to turn your bedroom into an irresistible sleep sanctuary - starting with our selection of beautiful bed frames.
---
6 products
how to find a bed frame that's right for you
A beautiful bed frame can take your bedroom style up a notch, but it's not always easy to know what one to buy. So, we've put together a handy guide to help you slumber in support and style. And you can be sure we've got a delightfully comfy mattress to match.
types of bed frame
A well-crafted bed frame isn't just somewhere to plonk your mattress. A quality one can give you extra support, years of great snoozing and transform a bedroom. From platform beds to basic frames with a headboard (or without), there are styles aplenty for you to choose from. Not to mention, materials, different slats and fabrics. Basically, the world's your bed frame oyster.
what is a divan bed?
The most popular style of bedframe in the UK is the classic divan. These tend to be made up of an upholstered base that rests on castors (tiny wheels) or solid legs. Like flares and corduroy, they were big in the 70s. Now this practical frame is making a comeback - with new stylish designs.
We'd recommend choosing a firm edge or solid top divan. Each has its own benefits. The sprung edge divan is long-lasting and has a softer, more responsive base – great if you like a slight bouncy feel. A platform divan is value for money, but gives you a firmer base made from hardboard.
If you want something space-saving, divan beds often come with handy storage options underneath for you squirrel away blankets, shoes, pillows and more.
the bedsteads
Bed frames are an easy way of transforming your bedroom and can make a beautiful focal point. One of the best statement bed frames is a headboard and footboard. This frame comes with different types of bases, usually sprung or solid slats.
sprung or solid slats
When shopping around for bed frames, remember that the distance between the slats will affect your comfort and support. To get the best from your frame and your mattress, look for slats that have a 75mm gap between them.
what are sprung slats?
Sprung slats are more flexible and allow for more 'give' on your bed - perfect for those of you who prefer a springier, cushioned feel. They are slightly curved, giving them more flexibility, and helping to respond to wriggles, body weight and pressure points. Sprung slats are often made from laminated soft woods. Our storage bed frame uses adjustable sprung slats.
solid slats
Solid slats are a more traditional option and are made from sturdy, solid wood, such as pine. These fixed wooden slats provide a flatter profile and a firmer feel, when paired with your mattress. They tend to be budget-friendly and a good option if you're after something with a firmer feel.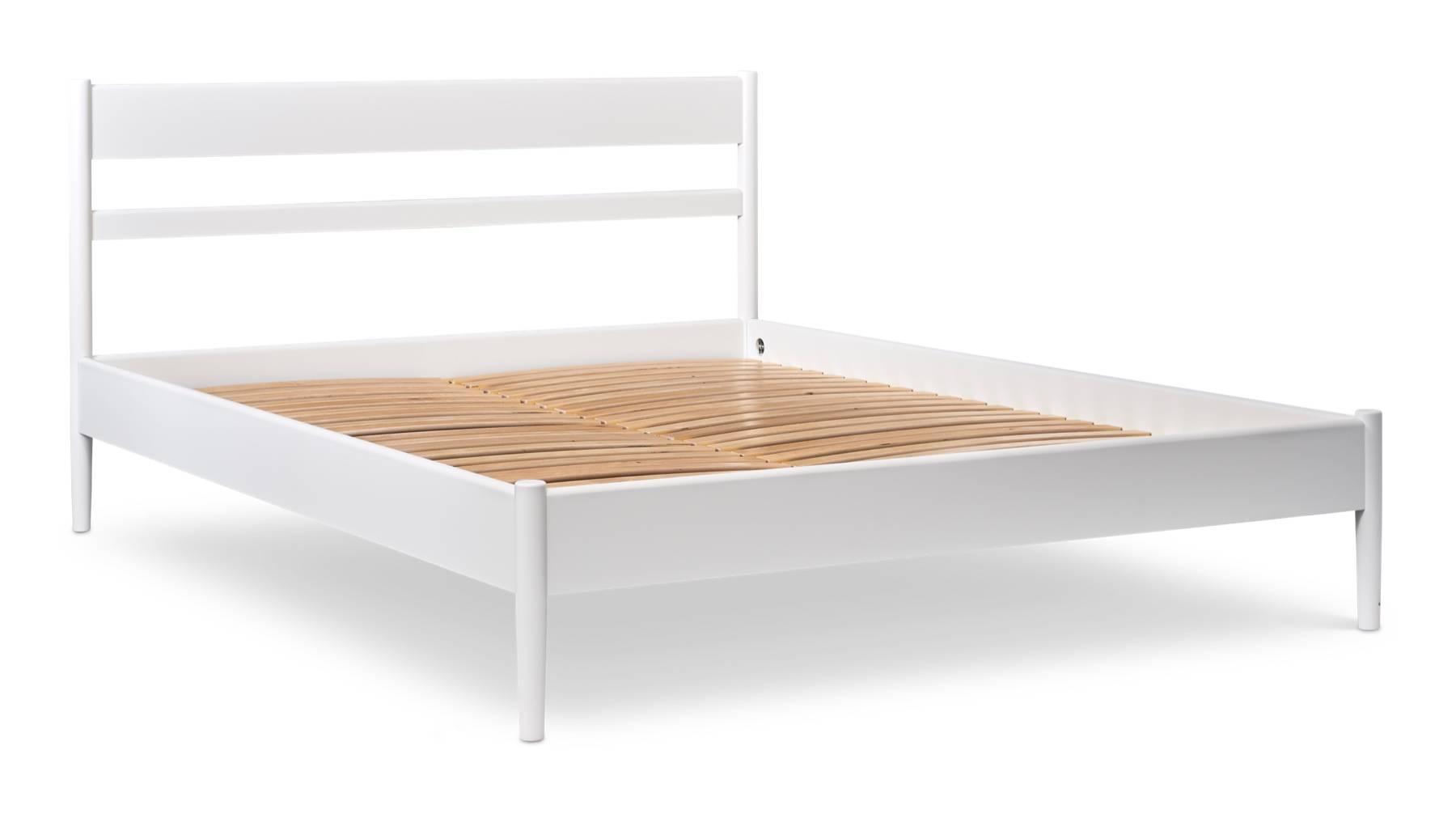 bed frame material
Now for the fun part. What do you want your bed frame to look like and be made from? Think about how it will look in your room. Do you want a big, bold statement? Something classic and upholstered? Or a sleek-looking bed frame for a smaller space, perhaps.
wooden bed frames
Wooden bed frames are often considered a classic, neutral option for a bedroom. On top of this, they tend to be solid, durable choice and give you space underneath for storage. Wooden frames are also very versatile, and look great in a range of different rooms - whether it's your children's bedroom or a spare room for guests.
types of wood
Mahogany – a strong and solid wood with a deep reddish exterior.
Oak – a durable and moisture-resistant wood - perfect for strength and stability.
Walnut – a hardwood with a smooth finish and expensive look.
Pine – a strong wood that's also cost-effective.
metal bed frame
Metal frames have made a real impact in interior design and are a sophisticated choice. Although not as sturdy as the wooden frame, they are durable while being a lighter frame - ideal if you have a habit of rearranging your room a lot. Aesthetically, they can add the illusion of space in smaller rooms, and come in some gorgeously eye-catching designs.
fabric bed frame
Metal bed frames are another versatile choice for a bedroom, and come in a range of designs - from the sleek and minimalist to the more traditional 'Bedknobs and Broomsticks' iron bedsteads. It's for this reason they have the potential to make a real impact on interior design. Although not as sturdy as the wooden frame, they can be durable. The frames are often lighter - ideal if you have a habit of rearranging your room. Aesthetically, they can add the illusion of space in smaller rooms, too.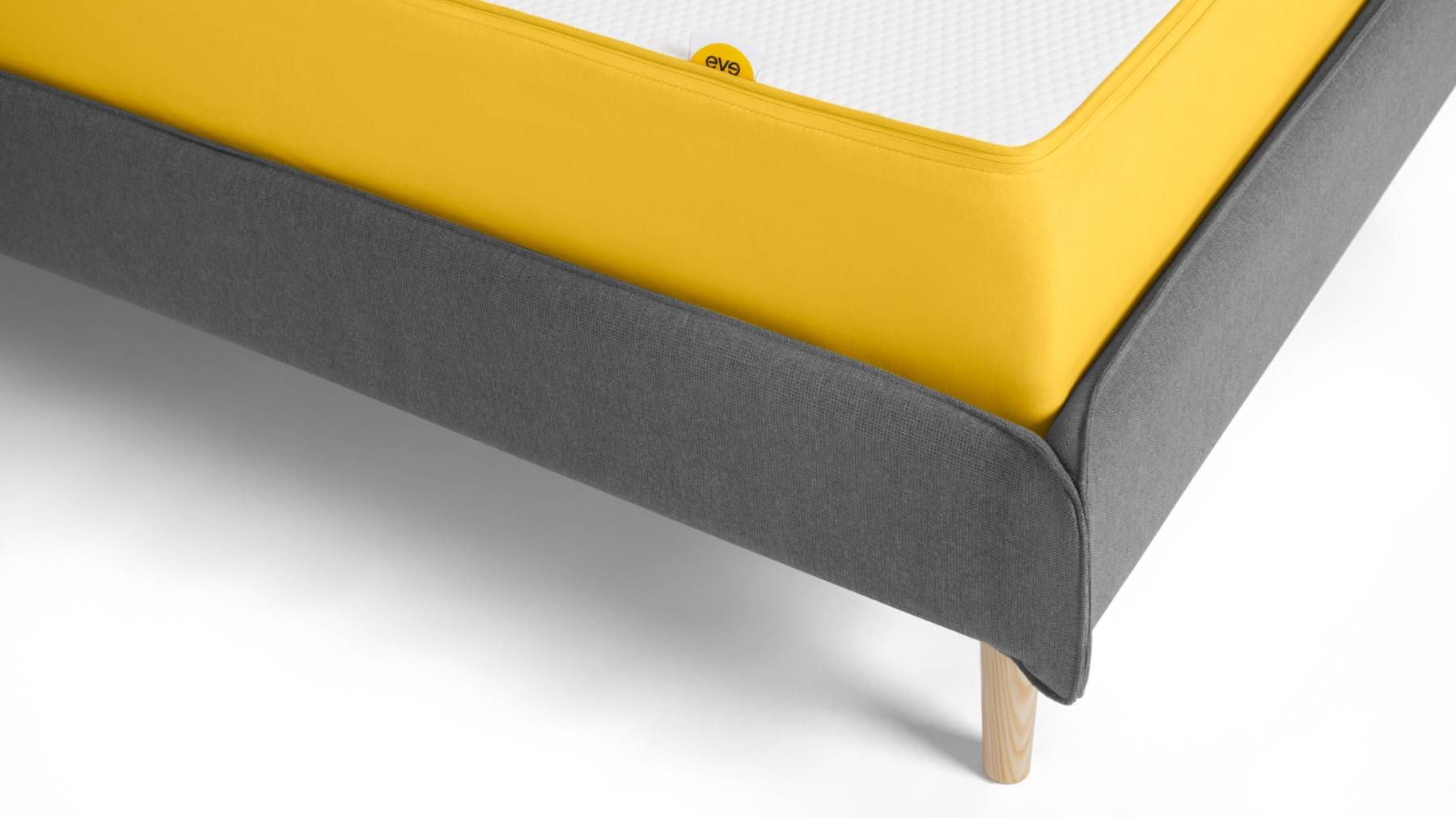 size of bed frames
Don't know how much difference is there between a queen and king size? Don't worry. We've put together a table of the traditional bed frame sizes to help you decide the size that works best for you.